Homepage
- New Raspberry Pi Model B+ New case TEK-BERRY+
TEKO is proud to introduce our own housing solution for new Raspberry Pi Model B+.
Thanks to the experience collected with TEK-BERRY, we have developed the most evoluted solution to protect and in the meantime take advantage of your new Raspberry Pi Model B+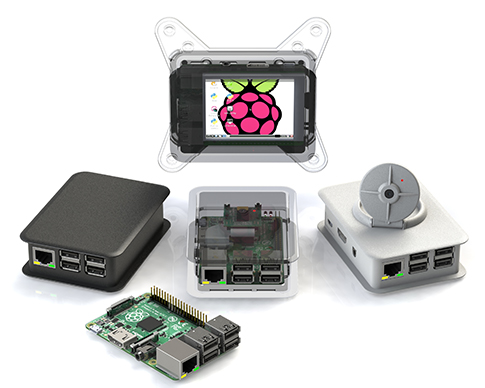 Technical specifications:
External dimensions: 100X73X29,5mm
Colours: White (.40) Black (.9) Clear Transparent (0.)
Material: Flame retardant ABS+PC
Matt surface finish
Easy and secure snap-on closing
Allow commercial touch display integration
Vents holes for heat dissipation
LED guidelight to display the Raspberry Pi's status
Mounting holes inside the top to fit Camera Module
Perfect fit with RPI-VESA mounting element
Perfect fit with RPI-CAM
Easy access to MicroSD memory card

Available from late September
- Raspberry Camera Case
Now available the ultimate solution to protect the new Raspberry Camera Module.
Thanks to this innovative project created by TEKO, what till now was impossible becomes true. The unique features of new Raspberry Camera Module require a specific smart housing to obtain the highest performances.
You can choose to assemble this new addon both directly on TEK-BERRY and any other case you already have (RPI-CAM), or buy the KIT including Raspberry's case and Camera Module's case (TEK-CAM).
The accessories included in the KIT allow to fix RPI-CAM Module to any surface simply a textile faston or a screw.
Three standard color versions :
.0 (Transparent) - .9 (Black) - .40 (White)
Custom colours available upon request and with a MOQ of 500 unitsi.
Click here for technical details
- TEK-BEAGLE: Beagleboard XM Case
CONCEPT
TEKO know-how comes into play by presenting on the market the new case "TEK-BEAGLE" specific for housing the "Beagleboard XM (Rev. C) card. Following the success of TEK-BERRY - our solution to housing Raspberry PI - we are now pleased to propose the new TEK-BEAGLE.
DESIGN
The new case "TEK-BEAGLE" features a fresh and innovative design that, complemented by technical solutions aimed at enhancing the performances of embedded Mini-PC, identifies the well-know TEKO-Style.
TEK-BEAGLE Specifiche tecniche
Flame retardant material Bayblend (ABS + PC) – Flame class VO - to ensure an excellent mechanical strength even when exposed to high temperatures.
Fast and secure closing by 4 screws on the bottom.
Internal fixing studs for an easy and intuitive fixing of the "Beagleboard-XM".
Aeration slots on all the perimeter of the base for a proper airflow in order to not overheat the components.
Sides of the case protrude to protect the connectors.
Supply includes 4 transparent non-slip feet that cover the screws.
Available standard colors: ice white.40 – black .9 – transparent .0
Production in custom colors requires a MOQ = 500pcs.


Click here for technical details
News »
Products groups
Metal
| | |
| --- | --- |
| ALUMINIUM | RF |
Plastic
| | |
| --- | --- |
| TOP COVER | FRONT PANEL |
| POCKET | KEYBOARD |
| POTTING STORAGE | PULT |
| HANDHELD | STRUMENTALIA |
| TELEBOX | ACCESSORIES |
Request Sample