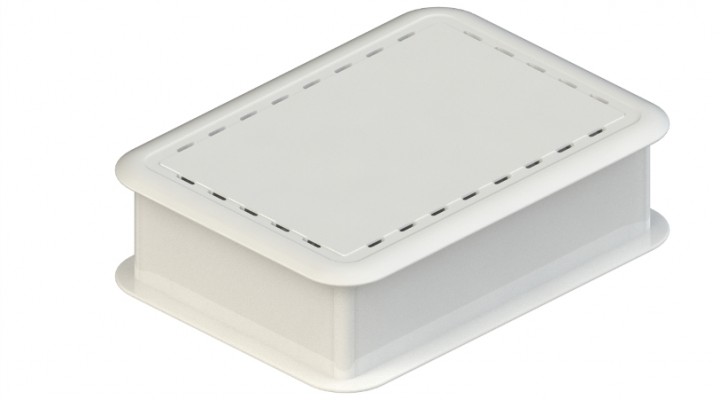 Description
TEK-SBC is a versatile enclosure, suitable for containing your boards, your wiring or any indoor use you may have. The presence of ventilation slots helps cooling the electronics inside.
The smooth and squared walls allow to apply drillings according to the connectors on the PCB.
Any type of image can be digitally printed on the large surface of the lid.
TEK-SBC can also be used on the wall, on a panel, behind a monitor thanks to the RPI-VESA accessory.
The self-extinguishing ABS + PC (V0) material guarantees maximum safety in any condition and use.
It has snap closure for quick and easy assembly, or with screws for firmer and more secure closure.
Products
Model
L (mm)
W (mm)
H (mm)
Color (Ral)
Material
MAX PCB L (mm)
MAX PCB W (mm)
Screws
Battery
Accessories
Drawings
Other
TEK-SBC.0


NEW

100,8
73,7
29,25
-&nbsp

ASYBLEND T65
86,8
58,8
4
RPI-CAM
RPI-COOLKIT
RPI-VESA
RPI4-SPACER

PDF
DWG

TEK-SBC.40


NEW

100,8
73,7
29,25
50719

ASYBLEND T65
86,8
58,8
4
RPI-CAM
RPI-COOLKIT
RPI-VESA
RPI4-SPACER

PDF
DWG

TEK-SBC.9


NEW

100,8
73,7
29,25
9004

ASYBLEND T65
86,8
58,8
4
RPI-CAM
RPI-COOLKIT
RPI-VESA
RPI4-SPACER

PDF
DWG

12 product families, 150 series. You can't find what you're looking for? Contact us